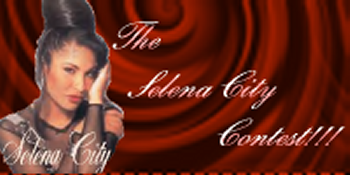 Welcome to the Selena City Lyrics/Translations contest and thank you and good luck to all who participate.

As stated in the latest issue of the Selena City Mailing List newsletter, this website is still missing lyrics and and translations to a few songs, and not being very good at getting lyrics to songs in spanish myself, I made this contest, as a benefit to both me and her fans who are willing to help out.


Brindis De Amor
La Mirada
Cuando Despierto
Pensando En Ti
El Tejano

The songs listed above are the songs I need lyrics to and need translated. When they are completed, submit them in the space provided below, and if you have any questions, please e-mail them to me at Sel416331@aol.com.

The Prize: The people who transcribe each song most accurately and submit the songs they have chosen the quickest will have a choice to receive a copy of any Selena album I own, including Muñequito De Trapo, And The Winner Is..., and Alpha. (Visit my collection page here to see which albums I own.) The more songs you do, the more tapes you will...3 songs, 3 tapes. 3 copies is the maximum, however. Also, all winners be named and thanked in the next edition of the Selena City Mailing List newsletter.

The Rules:

Songs must be complete and accurate in order to win a prize for it.
Prizes will be mailed to your house, so you must be willing to give me your address or prize cannot be claimed. Addresses for personal use only, and will not be distributed.
No exceptions to prizes. This is what you get!
First come, first win! Whoevers e-mails are received in my mailbox first will win the prize and the spot on my site. The only exception is if the lyrics or translations are too inaccurate.
The most important rule of all is you all better have fun doing this!!! Winning is great, but having fun is better.
Well everyone, get to work...contest ends December 31, 2000. Good luck to all and hope everyone gets a chance to win a prize. Do your best, and thanks again in advance to everyone who participates. I hope to have all the lyrics and tranlations complete, making Selena City officially the website with the largest lyrics and translations collection, and the only complete lyrics and translations collections. Thanks for making it the best!